Useful Links
Pré-Saint-Didier Thermal Baths
You can make your reservation at Terme di Pré-Saint-Didier directly form the Hotel, at least one day in advance, and you will be provided a little discount during week days.
The Chalet, open during the winter season, is run by the Croux Family, friends of ours. They have a bar with sandwiches and a wide terrace from where you can enjoy a stunning view over the mountains.
Courmayeur Mont-Blanc ski resort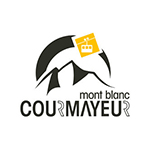 Check the Courmayeur Ski Resort website to find all the information you need about runs, lifts and skipasses. Find out what the resort offers both in winter and summer.
The "Società delle Guide di Courmayeur" organizes free rides, amazing Vallée Blanche descents, heli-skiing, and also easy and simple snowshoeing experiences. Find out all the activities you can do in this beautiful region.
With Skyway you will be immersed in a breathtaking landscape thanks to the 360° rotating cabins and 3 futuristic stations with restaurants, bars and entertainment services.