Mountain Hut "La Suche"
Our family chalet "Alessio Allegri", also known as "Baita La Suche" after the name of the area where it is located, faces the wonderful view of the Mont Blanc chain from a beautiful natural balcony. Situated at a height of 1816 meters in a strategic position along a variant of the famous "Mont Blanc Tour", it is easily accessible from the locality of Ermitage trough a 50-minutes walk along a mountain path. From La Suche you can access several hikes leading to Lake Liconi, Mont Cormet and Col Sapin; passing by Col Sapin, you can then reach the refuges Bertone, Bonatti and the Val Ferret.
A magical experience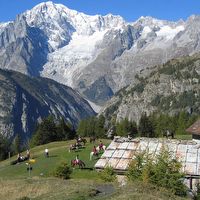 Once a week, our family offers to our hotel guests the opportunity to take a hike to La Suche, with a packed lunch on request, to visit the mountain huts that served as alpine pastures over generations and to admire the stunning view of the Mont Blanc chain. There will be bathrooms and deck chairs for the use of guests. Contact us to spend an unforgettable experience in one of the most popular panoramas in Courmayeur.
Contacts
For information, availability and prices you can contact us at:
Phone +39 348 80 30 035 | Phone +39 347 41 18 883 | E-mail info@hotelcroux.it
A magical experience...